Just when you thought you'd seen it all…
You See Where You 
STANDThe Guide to Understanding 
What $ Insurance Owes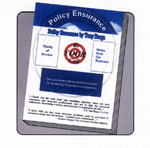 Policy Ensurance
An Easy Reading Book
Compiled By Antone P. Braga
ISBN 0-939206-02-1
What if, What Awaits You on the Beaten Path were Well-lit Footing!
Property Claim Deconstruct—Calculation, adjustment: You see what to expect through to settlement.
Glossary—Insurance jargon: You easily interpret adjuster parlance.
Your Rights—Equity: You access disaster insurance rights and rules of recovery.
Company Tactics—Quotes from adjusters' training: You form collaborative strategy.
Court Results—Outcomes from policyholder claims: You gain valuable insight.
Objective Preparedness—Informed, ready: You see where you STAND!
Topics covered include: Your Authority & Adjusters' Authority, The Standard of Value, Depreciation, The Rules on Personal Property, The Provisions Limiting Insurance Company's Liability, Coinsurance, Salvage Principles, Standard Policy Wording, The Acts Which Void the Policy, The Conditions Suspending Coverage, What You Must Do In Case of Loss, many Sample Forms and Letters, References to Cases and Regulations, and much, much more.
"It is time that someone publishes a book of this nature. As Regulators, we are aware that most policyholders are not aware…We wish you all the success…Your intent and foresight is commended."
—STATE of HAWAII, USA
DEPARTMENT of INSURANCE"Thank you…regarding your vital information on Preparedness…In particular…useful information for people to have in terms of property insurance and business recovery issues…a good reminder of ways of helping prevent stress by Preparedness. Good luck with your book."
—DISASTER MENTAL HEALTH
AMERICAN RED CROSS
NATIONAL HEADQUARTERS, USA